Matthew Russotto
mrussotto&^speakeasy.net
This page and all my pages guaranteed 100% BLINK FREE
About me
I'm a '92 graduate of the computer science program of a mediocre party school, the University of Maryland at College Park.

I came to the Philadelphia area from the DC area, in search of a job without the dreaded 2167A (you don't want to know)

Yes, the picture of me is gone, your browser isn't broken.

I have two sisters, and these are the much better schools they attended:
---
Reverse Engineering is a Way of Life
HTML Help (CHM) information
HTML Help (CHM) is a compressed HTML file format created by Microsoft and used by them and others for their help files. Look here for a CHM file format description, tools for working with CHM files, and an LZX compression engine.
CENSORED format
There would be another file format description here, plus some tools for working with it. But the unconstitutional Digital Millennium Copyright Act may forbid this description and these tools. Check out the anti-DMCA resources below

Quantum compression
A description of the Cinematronics Quantum compressor, and the minor variant used in CAB files.
Stuffit method 15 compression
A description of Stuffit method 15 compression.
Reverse Engineering under fire: The DMCA
An anti-DMCA resource site
On the Content-Neutrality of the DMCA
A little essay of my own -- this and $2.00 will get you a small cup of coffee. Sometimes with change. But hey, it does contain some CSS descrambling code (not DeCSS). And some TEA.
Professor Lawrence Lessig on the DMCA
Dave Touretzky's Gallery of Adobe Remedies Here's a guy who isn't afraid of the DMCA.

What I have to say on DRM and the DMCA.
RIP, Programming Freedom, 1843-2000
Unfortunately, the EFF has abandoned its legal fight against the DMCA, thus surrendering the field to the RIAA, Microsoft, Adobe, and the like. The ACLU has picked up the gauntlet, but are requesting a declaratory judgement (been there, done that, failed). The DMCA is here to stay.
And a little non-reverse engineering is good from time to time
I've ported a driver for some Atmel-based PCMCIA 802.11b devices to OS X 10.2.
A patch for the Linux V4L-DVB drivers to enable IR input in a PC5500 card
Inline Skating
The Philadelphia Landskaters
Valley Forge <-> Philadelphia trail
Area shown is from Betzwood Bridge to the end of the paved trail. It is possible to continue along the road through Manayunk and to the Kelly/West River loop.
---
Interactive Fiction On Line
Play adventure games in your web browser
(Java 1.0 enabled browser required)
Mac OS Interactive Fiction: Zip Infinity Carbon and Nitfol Carbon
Work In Progress: Java Glulx/Java GLK
Work In Progress: Zip Infinity V6
---
Links to info on the Mazda Miata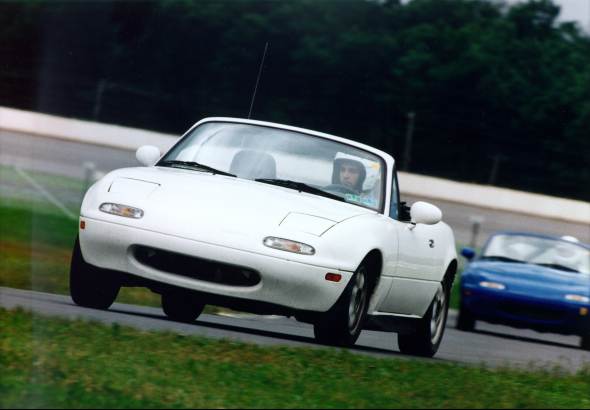 My white '91 B package, on the north course of Pocono Raceway at Miata Mountain Madness.
Miata.Net: The center for Miata info on the Internet
HELP! My stock radio says 'Err' and my dealer says I have to buy a new one!
---
---
Art!